Heritage Railway Miniatures
MODELS MADE BY ANDY WEGMULLER IN HO SCALE (1:87)

MODELS ARE FULLY DETAILED AND FINISHED
HANDCRAFTED MUSEUM QUALITY
COMPOSITE CONSTRUCTION (EPOXY RESIN AND BRASS)
AVAILABLE IN LETTERING SCHEMES FOR DIFFERENT TIME PERIODS
British Columbia Railway 52'-6" box car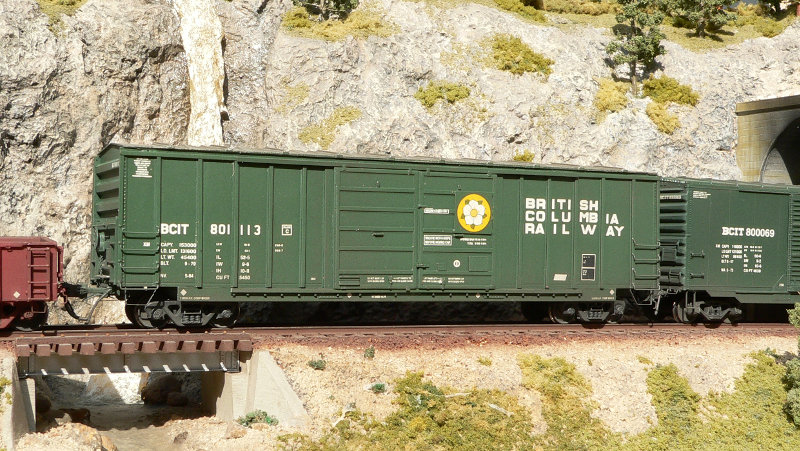 British Columbia Railway acquired 200 double door box cars from Evans Railcar Company in 1979, numbered in the BCIT 801000 to 801199 series. They were owned by the United States Railway Leasing Company and to be used for service to the US for plywood shipments. Length over sills is 52'6" with an inside length of 52'-5". They featured two 8ft. sliding doors with a total opening width of 16ft.
Later they were owned by Itel Rail Corp and then last by GE Leasing. They were of the roster by 1997.

Northwestern Oklahoma Railroad Company (NOKL) owned 19 cars (Series 1080 to 1099) that were used extesivly on the BCR in the 1990's.

Model description:
| | | | | | | |
| --- | --- | --- | --- | --- | --- | --- |
| LENGTH | WEIGHT | COUPLERS | WHEELS | TRUCKS | RADIUS REQUIRED | FIRST YEAR PRODUCED |
| 154mm | 120gr. | Kadee #156 | Semi Scale | P2k | 19 inch or 482mm | production planned |
The models are one of a kind Museum quality, completely finished, handmade from epoxy castings and brass stirrup steps, hand grabs and brake rods. They are painted and numbered to represent a real prototype, with "real look" weathering. The model is fully functional with #156 Kadee couplers and semi scale metal wheels.
The masters for this model were developed from prototype drawings and photographs. They are exquisitely detailed according to prototype with free standing ladders, detailed under floor, cut levers and brake hoses.
Every model is correct for a specific prototype.










Northwestern Oklahoma Railroad Company "Dual Air Pack" cars were used extensivly on the BCR for shipments to the US.












Cars had an outside length of 52'-6".







All pictures © Andy Wegmuller