Heritage Railway Miniatures
MODELS MADE BY ANDY WEGMULLER IN HO SCALE (1:87)

MODELS ARE FULLY DETAILED AND FINISHED
HANDCRAFTED MUSEUM QUALITY
COMPOSITE CONSTRUCTION (EPOXY RESIN AND BRASS)
AVAILABLE IN LETTERING SCHEMES FOR DIFFERENT TIME PERIODS
Canadian Pacific Railway Through Baggage car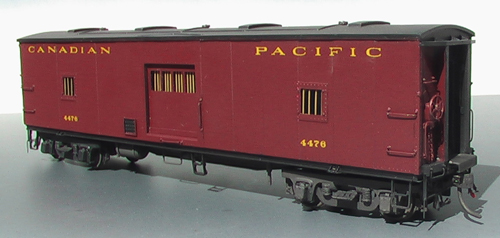 Rebuilt Silk car from the second series.

Starting in 1943 CPR rebuilt the silk cars into regular baggage cars. A big sliding door on the sides was added and four windows. They were fitted with gas lights and the ends had doors installed. Cars from both series were rebuilt as available and consecutively numbered from 4434 to 4479. See more on the Silk car.
In 1967 / 68 four cars from the second series were rebuilt again, this time as Remote Radio Control Cars (Robots).
The last car ended life as a Steam car for the Weed Control Train # 40900 (baggage car number 4478), it is in the CPR heritage collection now.
Model description:
| | | | | | | |
| --- | --- | --- | --- | --- | --- | --- |
| LENGTH | WEIGHT | COUPLERS | WHEELS | TRUCKS | RADIUS REQUIRED | FIRST YEAR PRODUCED |
| 172mm | 150gr. | Kadee #178 | Semi Scale | Cast | 21 inch | 2007 |
This is the most accurate detailed model of the famous CPR Silk cars / Through Baggage cars in 1:87 scale (HO). Every detail is accurately scaled and correct for the particular number.
The hand built masters were prepared from original CP blue prints, measurements and many photographs. It is exquisitely detailed according to prototype with detailed under floor, full brake rigging, cut levers and brake hoses. The models are one of a kind Museum quality, completely finished. The parts are cast with epoxy resin, carefully assembled, painted and lettered. Every detail has been faithfully replicated. Air tanks and gas tanks are in the correct place for each individual car as they vary on the prototype. Hand rails are made from brass wire and the ladders are free standing.
Lettering art work was specifically made for this models. Baggage cars have Gold lettering up to 1947 and Yellow after 1947. Every model reflects the prototype with correct details.
The model has then been weathered using a unique process. This whole process allows the finer details of the model to come to life giving a "real live" look and making it a truly astounding museum quality model.
They are fully operational with Kadee No. 178 couplers and have the correct trucks with Kadee or semi scale wheels. The baggage cars are weighted a little more for head end operation on trains made up with brass
passenger cars.













All pictures © Andy Wegmuller