Heritage Railway Miniatures
MODELS MADE BY ANDY WEGMULLER IN HO SCALE (1:87)

MODELS ARE FULLY DETAILED AND FINISHED
HANDCRAFTED MUSEUM QUALITY
COMPOSITE CONSTRUCTION (EPOXY RESIN AND BRASS)
AVAILABLE IN LETTERING SCHEMES FOR DIFFERENT TIME PERIODS
CPR Passenger Merchandise Service (PMS) box car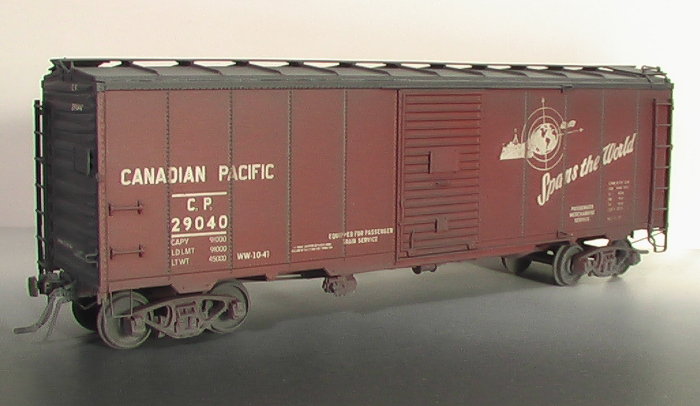 With Spans the World logo as repainted in 1947.

CPR used this box cars for express goods (News papers, Magazines ect.) and LCL (Less than Car Load) on the head end of passenger trains, sometimes up to 4 cars. In the late 40's and throughout the 50's this cars were seen on Kettle Valley passenger trains and on the mainline.
This cars were originally built in 1937 as regular 40 ft. box cars. From 1943 to1949 CPR converted 95 for passenger train service. Signal lines and steam line was added and they were renumbered in the 29000 series. They remained in service until 1979.





Paint scheme as built (Rebuilt)






Model description:
| | | | | | | |
| --- | --- | --- | --- | --- | --- | --- |
| LENGTH | WEIGHT | COUPLERS | WHEELS | TRUCKS | RADIUS REQUIRED | FIRST YEAR PRODUCED |
| 1mm | 1gr. | Kadee #78 | Semi Scale | TMW | 19 inch or 482mm | 2014 |

The models are one of a kind Museum quality, completely finished, handmade from epoxy castings and brass stirrup steps, hand grabs and brake rods. They are painted and numbered to represent a real prototype, with "real look" weathering. Lettering artwork was specifically made for this stockcars.
The model is fully functional with #78 Kadee couplers and semi scale metal wheels.
The masters for this model were developed from prototype drawings and photographs. They are exquisitely detailed according to prototype with free standing ladders, detailed under floor with steam line, cut levers, etched brack platform and brake hoses. The roof walk is made with individual boards. The ends have the correct square post and the roof is with flat panels.








Repaint

wit

h stagger logo from 1950.







All pictures © Andy Wegmuller