Heritage Railway Miniatures
MODELS MADE BY ANDY WEGMULLER IN HO SCALE (1:87)

MODELS ARE FULLY DETAILED AND FINISHED
HANDCRAFTED MUSEUM QUALITY
COMPOSITE CONSTRUCTION (EPOXY RESIN AND BRASS)
AVAILABLE IN LETTERING SCHEMES FOR DIFFERENT TIME PERIODS
Canadian Pacific Railway Wooden Express Refrigerator Cars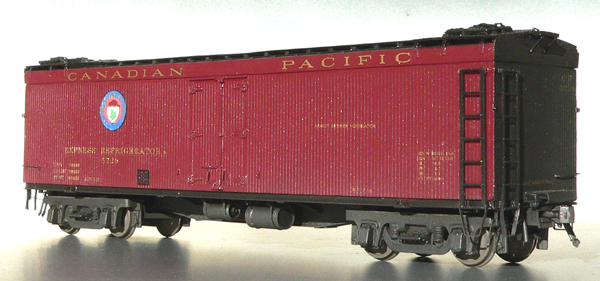 Model of a Series 3 reefer as it looked in 1929 when it was built.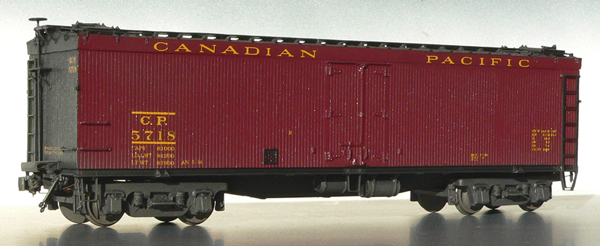 Model of a Series 3 reefer as it was in 1952.
The Canadian Pacific Railway had three series of wooden express reefers built with a Steel Under Frame (S.U.F.) between 1917 and 1929, they were 45'-0" over the strikers.
Series 1 was built in 1917/18 with numbers 5500 to 5599. The distinguishing character for this series is the side and end boards reach all the way down to the bottom, hiding the steel sill. The trucks are also unique to this series. They originally had wooden roofs.
Series 2a built in 1922, numbers 5600 to 5649. This series and the later ones had the side sill on the bottom exposed (visible). Trucks have bolted on pedestals.
Series 2b built in 1926, numbers 5650 to 5699 They are identical to series 2a except the trucks have cast side frames.
Series 3 built in 1929 number 5700 to 5749 feature shorter bolster to bolster distance and trucks with outside brakes. The other series have inside brakes.

Series 1 and 2 had Gothic lettering when delivered. Series 3 came with Roman lettering in gold. All had a beaver crest on the left side. The beaver crests were discontinued in the early 1930's and Series 1 was rebuilt with steel roofs. Wooden roof hatches were replaced with steel ones beginning in the 1930's. Later, from 1944 on, the roof platforms were removed, new hatches installed, one more grab iron added on the left side and a step was added under the doors. From 1947 on the lettering was changed to yellow. They remained in passenger service until the mid 1960's. Some were renumbered to freight service and saw service until the late 1970's.
The main job for express reefers was transporting high class merchandise in passenger trains.
| | |
| --- | --- |
| | |
| Model of a Series 1 reefer built in 1917/18 without bottom sill. | Model of a Series 2b reefer built in 1926 with bottom sill and cast trucks. Lettering is post 1947 yellow and roof platforms are removed. |
Model description:
| | | | | | | |
| --- | --- | --- | --- | --- | --- | --- |
| LENGTH | WEIGHT | COUPLERS | WHEELS | TRUCKS | RADIUS REQUIRED | FIRST YEAR PRODUCED |
| 170mm | 120gr. | Kadee #178 | Semi Scale | Cast | 26 inch | 2009 |

Available are models of series 1 , 2a, 2b and 3.
The hand built masters were prepared from original drawings, and many photographs. This model is exquisitely detailed according to prototype, with detailed under floor, full brake rigging, cut levers and brake hoses. This models are one of a kind Museum quality, completely finished. The parts are cast with epoxy resin, carefully assembled, painted and lettered. Every detail has been faithfully replicated. The roof walk and icing platform is made up from individual boards, hand rails are made from brass wire and the ladders are free standing. Every model reflects the prototype with distinguishing features for the time period. The basic design did not change, but details make the difference.
Models are available in many versions with all the different lettering styles. Features are: Correct style trucks with semi scale wheels, correct style hatch covers (Wood or Steel), icing platform or no platform, two side grab irons and step below doors for after late 1940's,
Lettering and Beaver logo was specifically made for this models.
The model has then been weathered using a unique process. This whole process allows the finer details of the model to come to life giving a "real live" look and making it a truly astounding museum quality model.
They are fully operational with Kadee scale head couplers and have semi scale wheels.
Length of model is 170mm or 6 11/16 inch.


Type 1 trucks
Type 2a trucks





Type 3 trucks

Type 2b trucks, Gothic lettering







Wooden hatches on left and steel hatches in the middle. Individual boards for roof walk and platforms.
On the right is shown the version without platform.




All pictures © Andy Wegmuller