Heritage Railway Miniatures
MODELS MADE BY ANDY WEGMULLER IN HO SCALE (1:87)

MODELS ARE FULLY DETAILED AND FINISHED
HANDCRAFTED MUSEUM QUALITY
COMPOSITE CONSTRUCTION (EPOXY RESIN AND BRASS)
AVAILABLE IN LETTERING SCHEMES FOR DIFFERENT TIME PERIODS
Canadian Pacific Railway ARA 40ft. Stock car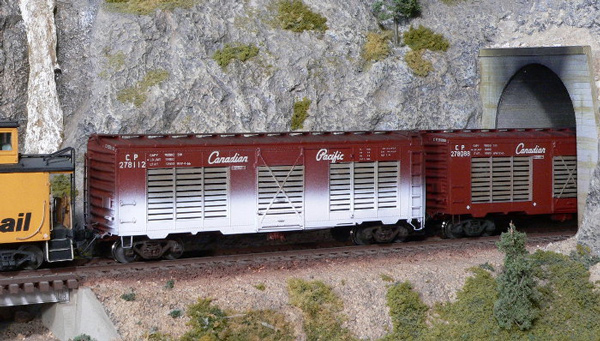 In 1936 Canadian Pacific Railway had 700 40ft. box cars built by CC&F to the 1932 ARA design. A distinctive feature on this box car series are the radial roofs.
300 boxcars were selected to be converted into stock cars from 1965 to 1967. A hole was cut into the sides and filled in with wooden slats, and they got new doors. Cars rebuilt in 1965 and 1966 retained the roof walk, cars rebuilt in 1967 had the roof walks removed.
Most cars had the script logo, only one is known to me to have the Action red with CP Rail logo.
They remained in service until the early 1990's. Many being used to transport ties in MofW service.
Model description:
| | | | | | | |
| --- | --- | --- | --- | --- | --- | --- |
| LENGTH | WEIGHT | COUPLERS | WHEELS | TRUCKS | RADIUS REQUIRED | FIRST YEAR PRODUCED |
| 154mm | 110gr. | Kadee #178 | Semi Scale | TMW | 19 inch or 482mm | 2014 |

The models are one of a kind Museum quality, completely finished, handmade from epoxy castings and brass stirrup steps, hand grabs and brake rods. They are painted and numbered to represent a real prototype, with "real look" weathering. Lettering artwork was specifically made for this stockcars.
The model is fully functional with #78 Kadee couplers and semi scale metal wheels.
The masters for this model were developed from prototype drawings and photographs. They are exquisitely detailed according to prototype with free standing ladders, detailed under floor, cut levers and brake hoses. The roof walk is made with individual boards. They are offered in two different paint schemes, boxcar brown with scrip logo and action red with CP Rail logo
Every model is correct for a specific prototype.


Most cars in tie service did not get lime sprayed.






The only car to receive the CP Rail Action red paint appears to be no.278224.




All pictures © Andy Wegmuller