Heritage Railway Miniatures
MODELS MADE BY ANDY WEGMULLER IN HO SCALE (1:87)

MODELS ARE FULLY DETAILED AND FINISHED
HANDCRAFTED MUSEUM QUALITY
COMPOSITE CONSTRUCTION (EPOXY RESIN AND BRASS)
AVAILABLE IN LETTERING SCHEMES FOR DIFFERENT TIME PERIODS
Canadian Pacific Railway 1936 ARA 40ft. Box car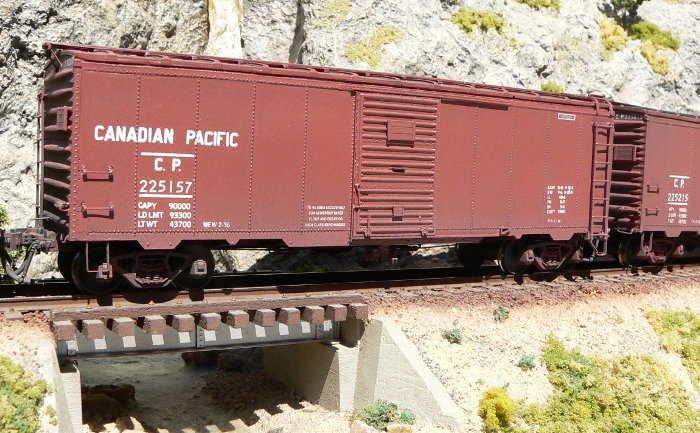 CPR 225157 with original lettering, built 1936.
In 1936 Canadian Pacific Railway had 700 40ft. box cars built by CC&F to the 1932 ARA design. A distinctive feature on this box carseries are the radial roofs.
The majority of cars rode on Dalman trucks, while a small number had National B trucks.
This box car series was the first to be equipped with AB brakes and a variety of the hand brakes were tested by CPR. The cars were equipped with Ajax, Miner, Universal, Peacock and Equipco power brakes.
The cars remained on the roster until 1981.
300 were converted into stock cars in 1965 to 1967.
| | |
| --- | --- |
| | |
| Spans the World logo used in 1947. | Stepped logo in use after 1949. |
| | |
Model description:
| | | | | | | |
| --- | --- | --- | --- | --- | --- | --- |
| LENGTH | WEIGHT | COUPLERS | WHEELS | TRUCKS | RADIUS REQUIRED | FIRST YEAR PRODUCED |
| 154mm | 110gr. | Kadee #178 | Semi Scale | TMW | 19 inch or 482mm | 2010 |
Every model is correct for a specific prototype.
The models are one of a kind Museum quality, completely finished, handmade from epoxy castings and brass stirrup steps, hand grabs and brake rods. They are painted and numbered to represent a real prototype, with "real look" weathering. Lettering artwork was specifically made for this boxcars.
The model is fully functional with #78 Kadee couplers and semi scale metal wheels.
The masters for this model were developed from prototype drawings and photographs. They are exquisitely detailed according to prototype with free standing ladders, detailed under floor, cut levers and brake hoses. The roof walk is made with individual boards. They are offered in four different paint schemes, original Block lettering, Spans the World logo, CPR Staggered logo and Script logo.
Every model is correct for a specific prototype, according to number series and hand brake detail.







Scrip lettering from the early 1960's.




Original block lettering.







Equipco, Universal and Ajax hand brakes.

CP225421 with Universal brakes.







All pictures © Andy Wegmuller