Heritage Railway Miniatures
MODELS MADE BY ANDY WEGMULLER IN HO SCALE (1:87)

MODELS ARE FULLY DETAILED AND FINISHED
HANDCRAFTED MUSEUM QUALITY
COMPOSITE CONSTRUCTION (EPOXY RESIN AND BRASS)
AVAILABLE IN LETTERING SCHEMES FOR DIFFERENT TIME PERIODS
British Columbia Railway Remote Control Car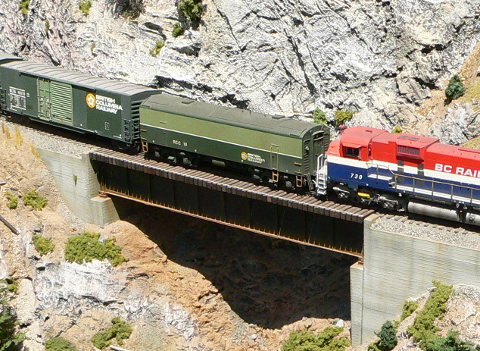 In 1980 British Columbia Railway purchased the remaining Remote Conrol Cars (RCC / RCU) from the Burlington Northern Railway.
There were 6 units BN had built from F7B's and one F3B in the early seventys for use on coal trains with U33C leading the train as master units (Sender). The RCU's had the receiver and controls and were MU'd with engines in the middle of the train.
Three of the units were repainted in BCR's two tone green with dogwood logo and put into service. At the time CP Rail was looking for more RCC's and a deal was made with 3 units going to CP on lease. Some wore BN green until the end.
RCC's lasted until 1989 on the BCR when they were taken out of service and replaced with recently accuired SD40-2 RCL#736 to #745. All were retired in 1990 and scraped, except RCC #10, it renumberd in 1987 when the original #1 was retired. It was given to the Prince George Railway Museum in 1992.













Model description:
| | | | | | | |
| --- | --- | --- | --- | --- | --- | --- |
| LENGTH | WEIGHT | COUPLERS | WHEELS | TRUCKS | RADIUS REQUIRED | FIRST YEAR PRODUCED |
| 172mm | 120gr. | Kadee #156 | NWSL/88 | PK2 frames | 19 inch or 482mm | 2017 |

The models are one of a kind museum quality, completely finished, handmade from epoxy castings. They are painted and numbered to represent a real prototype, with "real look" weathering, Lettering artwork was specifically made for this models.
Versions for BCR and BN are available.
The masters for this model were developed from photographs and actual measurements. They are exquisitely detailed according to prototype with free standing hand rails, detailed under floor,
cut levers and brake hoses.














All pictures © Andy Wegmuller