Heritage Railway Miniatures
MODELS MADE BY ANDY WEGMULLER IN HO SCALE (1:87)

MODELS ARE FULLY DETAILED AND FINISHED
HANDCRAFTED MUSEUM QUALITY
COMPOSITE CONSTRUCTION (EPOXY RESIN AND BRASS)
AVAILABLE IN LETTERING SCHEMES FOR DIFFERENT TIME PERIODS
BC RAIL; NSC 50ft. Newsprint box car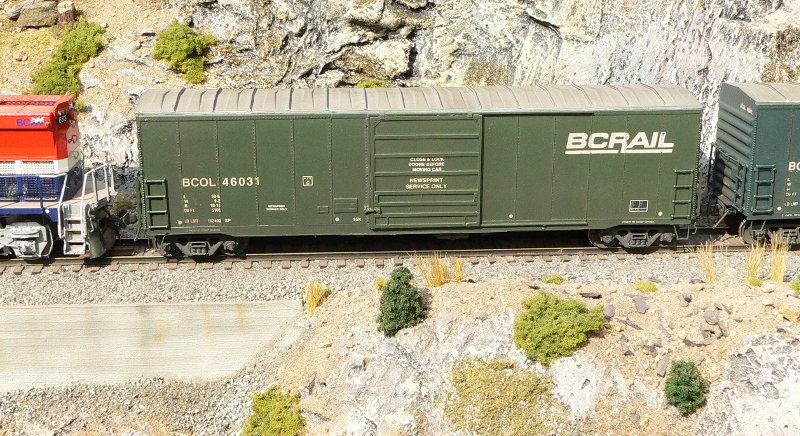 From about 1989 the railway began rebuilding some older PGE 50ft. box cars from the 4600 to 4650 and 4651 to 4750 series in their Squamish shop. They received steel floors, and new doors. The new rebuilds were numbered BCOL 46000 to 46085 and 46100 to 46134 and dedicated to Newsprint service. A service where a very clean interior is mandatory. News paper presses do not like foreign debris like splinters in the paper roll.
Their service covered destinations all over North America.
All are painted dark green and received the new BCRAIL logo. The paint supplied for this cars in the late 1980's was not fade resistant due to experiments with new paint formulas with no lead. The cars turned a bluish green after a short time.
This boxcars are unique to BCR.
Model description:
| | | | | | | |
| --- | --- | --- | --- | --- | --- | --- |
| LENGTH | WEIGHT | COUPLERS | WHEELS | TRUCKS | RADIUS REQUIRED | FIRST YEAR PRODUCED |
| 154mm | 110gr. | Kadee #178 | Semi Scale | P2K | 19 inch or 482mm | 2010 |

The models are one of a kind Museum quality, completely finished, handmade from epoxy castings and brass stirrup steps, hand grabs and brake rods. They are painted and numbered to represent a real prototype, with "real look" weathering. Lettering artwork was specifically made for this stockcars.
The model is fully functional with #178 Kadee couplers and semi scale metal wheels.
The masters for this model were developed from prototype drawings and photographs. They are exquisitely detailed according to prototype with free standing ladders, detailed under floor, cut levers and brake hoses.
Every model is correct for a specific prototype.














All pictures © Andy Wegmuller