Heritage Railway Miniatures
MODELS MADE BY ANDY WEGMULLER IN HO SCALE (1:87)

MODELS ARE FULLY DETAILED AND FINISHED
HANDCRAFTED MUSEUM QUALITY
COMPOSITE CONSTRUCTION (EPOXY RESIN AND BRASS)
AVAILABLE IN LETTERING SCHEMES FOR DIFFERENT TIME PERIODS
PGE, BC RAIL; Skeleton Log Cars by National Steel Car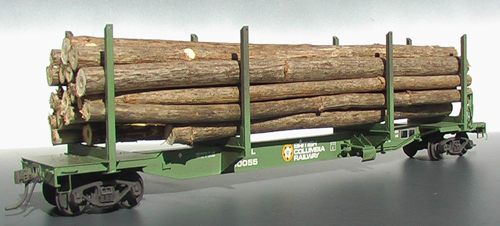 BCOL 10055 in light green.
These 62'-9" long Skeleton log cars were built in 1966 (painted brown) and 1968 (painted black) by NSC for the PGE.
NSC built similar cars for the Canadian Pacific Railway but they have a wider center sill.
In the 1970's and early 1980's they were repainted in BCR light green or dark green with the Dogwood logo. After 1985 all were painted dark green and got the new BC RAIL logos. Some of the brown and black ones had the PGE painted out and got BCOL reporting marks. They are used to transport raw logs to saw mills or Hydro power poles and are sometimes inter-changed with other Railways. They have been seen in the Portland Oregon area (BNSF, UP).
On the Takla loggers (last log trains in North America) one can see whole trains with this cars. Many of this cars remain in use today, although some were written off after accidents.
Sometimes one can see two or three in a train with logs or Hydro poles.
| | |
| --- | --- |
| | |
| Brown car built in 1966. | Black cars built in 1968. |
| | |
| | |
| 1970's repaints in light green with extended lettering. | 1970's and 1980's repaints in dark green. |
Model description:
| | | | | | | |
| --- | --- | --- | --- | --- | --- | --- |
| LENGTH | WEIGHT | COUPLERS | WHEELS | TRUCKS | RADIUS REQUIRED | FIRST YEAR PRODUCED |
| 233mm | 80gr. | Kadee #158 | Semi Scale | Kadee | 19 inch or 482mm | 2005 |


The masters for this model were developed from prototype drawings, photographs and actual measurements. It is one of a kind Museum quality, completely finished, handmade from epoxy castings, platforms and stakes are brass. The center sill has metal reinforcement to keep the car from sagging. Brass stirrup steps, hand grabs, cut levers and brake rods finish off the model.
The model is fully functional with #78 Kadee couplers and metal wheels. Roller bearing version rides on modified "Genesis models" trucks and the friction bearing types are modified "Accurail" trucks.
The model has then been weathered using my unique process. This whole process allows the finer details of the model to come to life giving a "real live" look and making it a truly astounding museum quality model. Lettering artwork and decals were specifically made for this models. They are exquisitely detailed according to prototype, yet sturdy. Many versions are available: PGE brown and black, BCR light green and dark green and BC RAIL dark green. The Canadian Pacific Railway cars with a wider center sill are also available. Models are sold without log loads.







At least one example with the first BCRAIL was 10186.




From the mid 1980's on the PGE reporting marks are




replaced with BCOL.










Black PGE with painted out logo.




Some cars wre repainted with the second BCRAIL logo.







All pictures © Andy Wegmuller