Heritage Railway Miniatures
MODELS MADE BY ANDY WEGMULLER IN HO SCALE (1:87)

MODELS ARE FULLY DETAILED AND FINISHED
HANDCRAFTED MUSEUM QUALITY
COMPOSITE CONSTRUCTION (EPOXY RESIN AND BRASS)
AVAILABLE IN LETTERING SCHEMES FOR DIFFERENT TIME PERIODS
PGE, BCR, BC RAIL; NSC 50ft. Combination door box car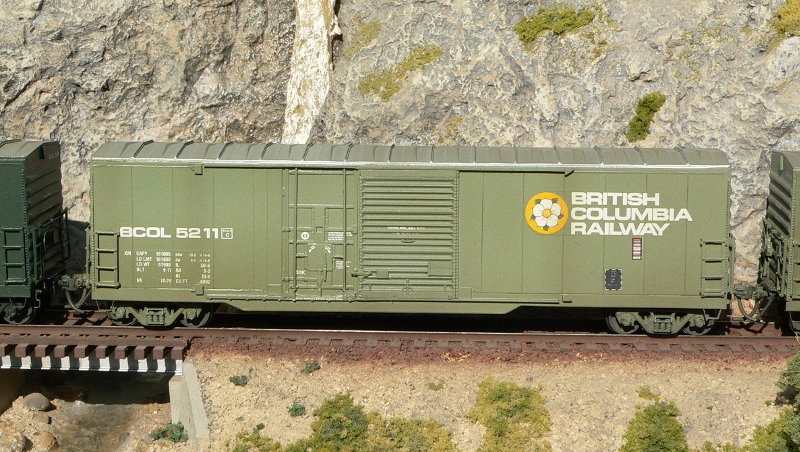 BCOL 5211, built in 1971.
In 1971 PGE purchased a total of 600 new 50ft.combination door boxcars from NSC.
200 were numbered from 5100 to 5399. Painted light green and used in domestic service, reporting mark was PGE.
400 were numbered from 40000 to 40399. Painted dark green and used in International service, reporting mark was PGER.
This early series is distinguished from a later similar series, by the big door stops.
Many cars were repainted with the BCR Dogwood logo and from the mid 80's on with BCRAIL logos. They remained in service until the mid to late 90's, when most were scrapped.
From about 1993 on the railway began rebuilding some in their Squamish shop. They received new floors, interior and new doors. There are two types of doors, an early and an improved. They are numbered in the 80000 series (for 80 ton) and ride on 33 inch wheels. Other ones were upgraded for 100 ton service, numbered in the 100000 series and ride on 36 inch wheels. They remain in service and are used to ship lumber, plywood and pulp from British Columbia to destinations all over North America and Mexico.
All are painted dark green and received the new BCRAIL logo. This boxcars are unique to BCR, no other railway had the same.
| | |
| --- | --- |
| | |
| Some of the PGE cars were repainted into the BCR Dogwood scheme and others had the PGE logo painted out and got BCOL markings. | |
| | |
Model description:
LENGTH
WEIGHT
COUPLERS
WHEELS
TRUCKS
RADIUS REQUIRED
FIRST YEAR PRODUCED
192mm
120gr.
Kadee #178
Semi Scale

Proto 2000 or
Intermountain
19 inch or 482mm
1993


The models are one of a kind Museum quality, completely finished, handmade from epoxy castings and brass stirrup steps, hand grabs and brake rods. They are painted and numbered to represent a real prototype, with "real look" weathering. Lettering artwork was specifically made for this boxcars.
The model is fully functional with #178 Kadee couplers and semi scale metal wheels.
The masters for this model were developed from prototype drawings, photographs and actual measurements. They are exquisitely detailed according to prototype with free standing ladders, detailed under floor, cut levers and brake hoses. There is great variety of this boxcars, light green, dark green and with different colored doors. Rebuilt version has 2 kinds of sliding doors. Every model is correct for a specific prototype. Doors colors got mixed up in later years as they got replaced when brocken.


Original PGE version for domestic service.
Time era: 1971 to late 80's.
Original PGE version for International service.
Time era: 1971 to late 80's.




Painted light green with dogwood logo.
Time era: mid 70's to late 80's.
PGE cars with BCOL and Dogwood repaints.




Repaint job with dogwood logo.
Time era: early 80's to mid 90's.
Repaint job with dogwood logo.
Time era: late 70's to mid 90's.




BC RAIL logo from 1983.
Rebuilt 100 ton version, 36 inch wheels.
With side vents and type 2 sliding door.
Time era: mid 90's to present.





Ends showing intricate details.
The model on the right has the little vent by the roof top. All 5100 to 5399 series cars had them.
All pictures © Andy Wegmuller