Heritage Railway Miniatures
MODELS MADE BY ANDY WEGMULLER IN HO SCALE (1:87)

MODELS ARE FULLY DETAILED AND FINISHED
HANDCRAFTED MUSEUM QUALITY
COMPOSITE CONSTRUCTION (EPOXY RESIN AND BRASS)
AVAILABLE IN LETTERING SCHEMES FOR DIFFERENT TIME PERIODS
PGE, BCR, BC RAIL Steel Caboose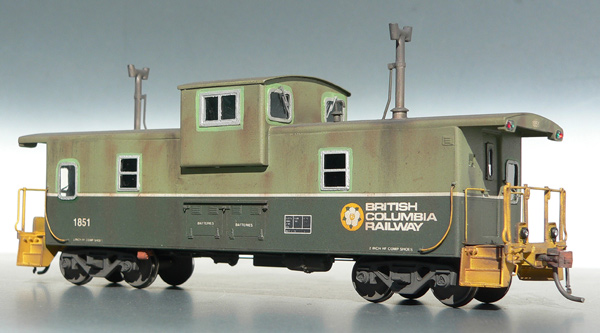 Work was started to rebuild 1851 in 1990 when the order was issued to phase out cabooses. It never received the intended R/W/B paint job.
PGE built the first steel caboose in their own Squamish shops in 1968. It proved a sucsessful design, so the railway built 14 more between 1969 and 1971. PGE caboose numbers are from 1851 to 1864.
In 1973 British Columbia Railway built 10 more. Until 1975 10 more were built at the Squamish shops.
Cabooses were used for the conductor and his crew on the tail end of every freight train until May 1993. After May 1993 BC Rail used train end devices on their through freight trains south of Prince George. Cabooses were still used north of P.G. until the end. Last caboose trains were the Takla Loggers and the Fort St. John to Fort Nelson turn.
Some Cabooses did not survive, being scrapped after accidents or sold to private individuals, however some are still in service today, CN uses one as a crew transporter.
| | |
| --- | --- |
| | |
| The first caboose was painted in the then current green and orange paint scheme. | As built caboose 1853 had the big black and white map logo. |
| | |
Model description:
| | | | | | | |
| --- | --- | --- | --- | --- | --- | --- |
| LENGTH | WEIGHT | COUPLERS | WHEELS | TRUCKS | RADIUS REQUIRED | FIRST YEAR PRODUCED |
| 151mm | 110gr. | Kadee #58 | Semi Scale | Atlas | 19 inch or 482mm | 1993 |
The models are one of a kind museum quality, completely finished, handmade from epoxy castings for the sides, ends and cupola. Brass castings are used for the steps, end hand rails, chimenys and roof vents. The platform grills are brass etchings, so are the window wipers. Brass is used for the roofs and the floors, with epoxy details. They are painted and numbered to represent a real prototype, with "real look" weathering, Lettering artwork was specifically made for this models.
The masters for this model were developed from railway drawings, photographs and actual measurements. They are exquisitely detailed according to prototype with detailed under floor, cut levers and brake hoses.





All Cabooses received two tone green paint with the Dogwood logo.


The last PGE built cabooses had the grey map logo.






5 cabooses were painted in the first version of red, white and blue in 1985 /86,so me received the EXPO logo on the side.





Starting in March 1987, 6 cabooses were rebuilt with an added side window and painted with the revised red, white and blue paint scheme.




All pictures © Andy Wegmuller